Ordering to Delivery
I placed my order, what happens now?
---
Once your order has been placed, keep an eye inside the Tesla portal on the status of your order. Your order will go through the following transitions with estimated dates below. Model S and X Order placed... VIN Assigned - 2 weeks Car build - 2-3 days Awaiting Logistics - 1-2 weeks Shipping - 3 weeks (includes 1 week fumigation in Auckland) Delivery - By this point a delivery specialist would have made contact to arrange a date Basically work on 3 months from order to delivery. Model 3 Order placed... If in inventory - 1-4 weeks to delivery If not in inventory... Awaiting Logistics - 1-2 weeks Shipping - 3 weeks (includes 1 week fumigation in Auckland) Delivery - By this point a delivery specialist would have made contact to arrange a date
---
Accessories
---
I've placed my order, what else should I get? Model S and X * CHAdeMO adapter - this is a must have, if you want to use public chargers around the country or even just for emergencies, you will need one of these. Contact Tesla for a price. Model 3 * You don't need an adapter! Your car comes with a built ready to accept cables with - CCS2 (DC charging at a CHargeNet station for example) - Type 2 (AC charging at a Tesla Destination charger) For all models * QI Wireless Phone Charger - Allows you to integrate your cellphone to your car dash * Puddle Lights - Show off a Tesla Logo when you open your doors * TeslaFi - If you love stats and want to log every charge and drive, this is for you (use referral code icepicknz for 4 week free trial) * FOB Pocket - Protect your key fob, I personally love my baseball stitch leather case * consider getting a ChargeNet account set up - they have almost 200 DC fast chargers in NZ now! * get a fast read/write USB stick to set up your Dashcam
---
How can I protect my Tesla?
---
A number of Tesla or high value car owners will wrap their car, either in a clear film to retain the existing color you purchased, or they will choose a color of their choice. At the very least it's suggested you get your front (~$1,500) of the vehicle wrapped to protect from stones and debris from the road. I personally wrapped the front and sides (~$3,300) of my car so to protect from damage caused by other car doors, jeans buttons, etc. A couple of companies Tesla Owners have used... * Car Paint Protection * The Wrap Shop - Barrys Point Rd For car detailing see OCD and United Car Care
---
I have purchased a second hand car, how do I connect the app?
---
Contact Tesla on customersupport@tesla.com with the following information: * Color copy or photo of your current driver's license. * Copy or picture of your registration in your name * If registering under a business, please include your business card with your name and name of the business. * Email address you would like linked to your account (your Tesla account email, if you have already created an account) * Home or mailing address * Phone number
---
---
Super Charging
Where are the SuperChargers and how much should I use?
---
As of writing, there are 8 active superchargers live with more planned. You can see a list of superchargers on this tesla page When charging, it is recommended that you do not charge your car past 90% unless you are doing a road trip, even then, if you can avoid it, try not charge over 90%. If your car is near empty, you will notice the charge rate is very high, as you get closer to 80-90% the super charger will slow down so not to damage the battery. Charging a near empty car for 30 minutes may add 50kWh of power, but adding that last 10kWh (10%) to the car may take just as long. And with Model 3 on the road in NZ now, there is a new charging plug standard - CCS2. All Supercharger stalls have the old Type 2 plugs, most have CCS2, but not all. So if you drive an S or X its a courtesy to use the Type 2 only first.
---
The SuperChargers are Slow/Busy which should I use?
---
SuperChargers are connected in sets of 2, for instance a station that has 6 chargers, will likely have a 1A, 1B then a 2A and 2B and lastly a 3A and 3B. The chargers share the load of available power, for instance if someone was charging in bay 1A and there was no one in 1B, then that person would receive 100% of the available capacity. However if there was someone in 1A and 1B, then they would essentially be sharing the available capacity. If there is someone in 1A and 2B, use any of the chargers in 3. If you are charging while it's busy and there are few bays available and someone arrives to charge, it is standard etiquette to finish your charge and continue your trup if you have enough power or are over 80% full.
---
Can I park in a SuperCharger if I'm not charging
---
Simple answer is No. The charging spots (while they may have good parking spots) are for charging only. Even if you are charging and leave the premises, you are expected to be in near proximity so when the charge has completed, you return to your car immediately and move your vehicle.
---
---
Destination/Fast Chargers
Are Destination chargers free to use?
---
In most cases no, but depends on the owner. It could be free to the public, it may be for paying customers to their business, or it may be a fee per charge setup. Destination chargers are supplied by the local business (at their expense for install) and these businesses pay for the power you are consuming to charge your car. Some hotels will provide free use to the charger (even though they may be paying $15-30 in power fees) and some hotels will request a small fee to use the service. There is only one free destination charger I know of, that being Mitre10 in Albany. They have supplied two chargers at their premesis in hopes to attract customers to their stores while they charge their cars. If you purchase goods while there, then its great for them, however imagine a coffee shop selling a $5 coffee and you use their charger which costs them $15 in power; doesn't seem fair right, these shops may charge a nominal charge fee.
---
How can I find a fast charger (not super charger)?
---
Simply download the app called PlugShare to your iOS or Android device (or use the webpage PlugShare. In the filter you want to select "Type 2" chargers and "CHAdeMO" (Provided you have purchased a CHAdeMO charger). ChargeNet provides the billing to over 100 fast chargers around the country, it's suggested you download their app or at least signup online and purchase an RFID tag if you prefer not to use your phone. There are two billing scenarios I know of at the time of writing, either $0.40c per kWh or $0.25c per kw + 0.25c per minute you're at the charger.
---
Fast Charging etiquette, what you should know!
---
Follow the rules! If a charging station says you may charge for a maximum of 30 minutes, make sure you're back at your car within 30 minutes. Its worth checking in to PlugShare noting that you are charging and maybe leaving your phone number, or leave your number on your dashboard. If you have enough charge and you see someone waiting, be polite and perhaps finish up so the next person can charge, especially if this is a free fast charger. DO NOT park your car in an EV charging bay thinking its a free car park, ITS NOT!. EV Bays are for charging only, once you are done charging or your car is charged, return to your car immediately and move it to a standard parking if you are still shopping/eating etc. Remember these parking spots are essentially gas stations for EV's and you may be blocking the spot for someone needing to refill.
---
My Home/Destination charger has a red light!
---
If your wall charger has a red light, this is indicating an error. If you have single phase power, simply turn it off at the main switchboard for a few seconds then back on again, if the red light remains, try the rest button on the side of the charger. If you have two or three phase power, make sure all appliances at the premesis is working as it's possible one of your phases may have a problem. If the problem persists, please contact Tesla
---
---
Maintenance
How should I wash my car exterior
---
No rinse option. Where a hose pipe may not be available, this is the best option for keeping your car clean and shiny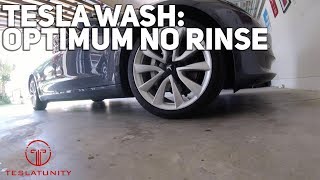 If you have a high pressure washer, Snow Foam is a good option. First you will need to use a prewash, do a clean and then you can use something like the Fireball Hydrophobic foam to stop dirt sticking and allow water to bead off the car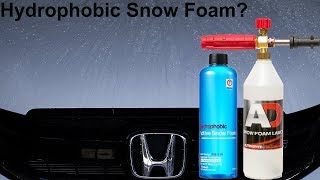 ---
---